What Stores Allow Overnight Parking 2023?

Sometimes travel days are long and you need to pull in somewhere for the night.  Rather than finding a campground with amenities or a hotel you just want something convenient on your route.  At this point, you are wondering what stores allow overnight parking.
Over the years, as full-time RVers, we have spent many nights in stores that allow overnight parking.
This article will share what stores allow overnight parking, how to find them, and guidelines for parking overnight. We are going to concentrate on free overnight parking and also offer some alternative places to park overnight.
Stores That Allow Overnight Parking
Walmart
So, if you are like most people, especially in the RV community, Walmart comes to mind first when you are talking about free overnight parking. For easy overnight parking, Walmart is our first choice.
We have found Walmart to be easily accessible with large parking lots, conveniently located, safe, and hospitable. When reading reviews you will find not everyone agrees with this.
Some of our friends even find Walmart scary.
If you don't feel comfortable with the parking area by all means find a different place with free overnight parking.
Keep in mind Walmart is not a campground. You are there for just a few hours to rest and rejuvenate. The vehicle activity may make the parking lot noisy as trucks make deliveries, employees do their night work and customers shop.
Some Walmart's feel like an RV parking lot because many find the stores a safe place to park overnight.  Sleeping in a Walmart parking lot may take some getting used to but for us, it is a welcome location to get a good night's sleep and stock up on groceries and RV supplies.
One of our best Walmart stays ever was in Port Angeles, WA near Olympia National Park. The lot was level and not crowded, actually, it was very secluded from general parking.
The bonus was the amazing view of Hurricane Ridge. With permission from management, we stayed 2 nights and explored the National Park and surrounding area.
Video: Can You Sleep in a Walmart Parking Lot?
Cracker Barrel
Overnight parking at Cracker Barrel restaurants is another very popular option for free overnight parking. With over 630 locations the "Cracker" can make a great place for an overnighter.
Convenient locations, designated truck and RV parking, not to mention great food, can all make for a great stay.
When considering Cracker Barrel overnight parking keep in mind they don't have a lot of large parking spots and the spots tend to fill up early. If you are like us with a "Big Rig" Cracker Barrel is not always an option.
Cabelas and Bass Pro Shops
Cabelas overnight parking was once one of the top places for free RV overnight parking since many of the stores featured RV dump stations.
Since merging with Bass Pro Shops most of the dump stations have closed but with permission, you can still park overnight at many locations.
Large well-lit lots and endless shopping opportunities make this a good choice.
Home Depot, Lowe's, and Menards
Home improvement store parking lots are prime candidates for stores that allow RV overnight parking. These retailers have large easily accessible lots that are rarely overtaken by RVers.
As with any place you want to park or sleep overnight it is imperative you check with the local management. Give them a call or walk in and you may have a great place for the night.
Anytime Fitness, Planet Fitness, and Gyms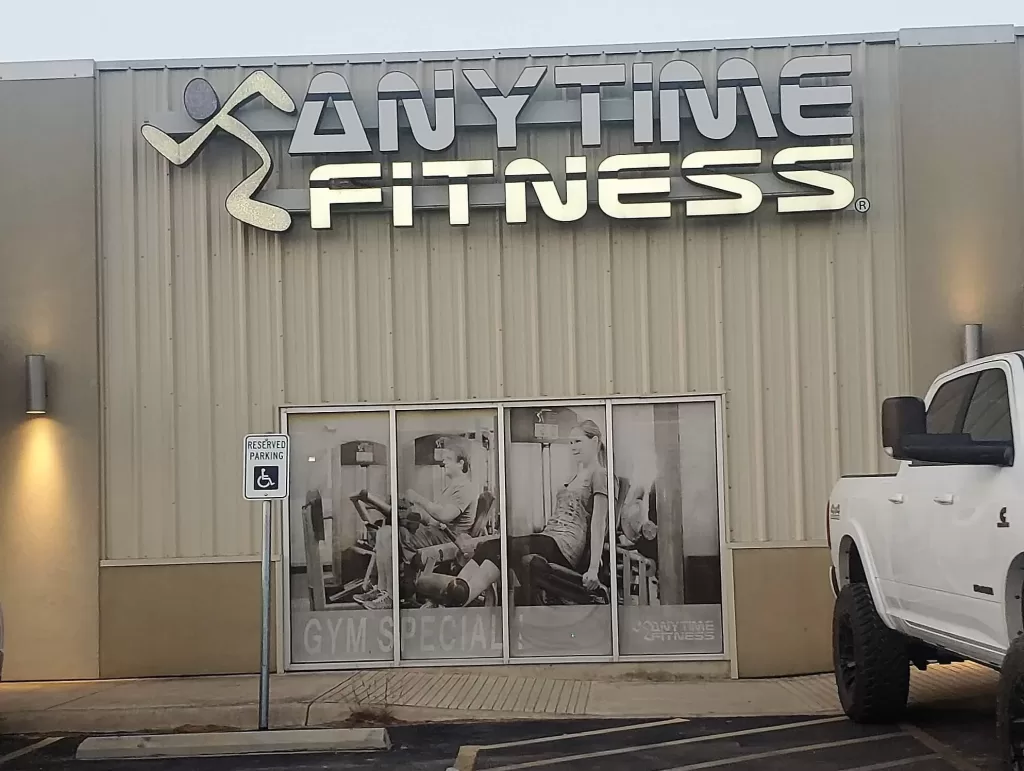 Gyms may not be your first thought for free overnight parking but for many who park overnight in a car, van, or small RV fitness centers can be just perfect.
With extended hours in many locations, this can be a safe place to park overnight. Also, a national membership provides a place to not only have a great workout, but you can also use the restroom and shower facilities.
Costco and Sam's Club
Many of us have a wholesale club membership to save money on frequently used groceries and RV supplies. We also like the discounted fuel and cheap eats in the snack bars. If it's time to stock up while on the road keep the clubs in mind as the lots are large with easy access.
Pilot/Flying J, T/A Travel Centers, Loves Truck Stops
Truck stops are definitely stores that allow overnight parking.
Many drivers and RVers find them to be a preferred location for several reasons.
They are easy to access, very public, and have a lot of people. Not only are they convenient to fuel, but you can also eat, shower, do laundry, dump and fill tanks, get propane, air up tires, and sleep overnight for free.
What more could you ask for? Quiet maybe. Busy truck stops tend to be noisy, with the truck's auxiliary power units and reefer trailer units running constantly. When pulling a toad, you may not be able to back into a spot, making parking more difficult.
Love's truck stops are notable in that some have dedicated RV Lanes and now they are also adding RV spots with hookups for an additional nightly fee.
STRO Tip: TSD Fuel Savings Program Do you like saving money on fuel? If you travel in a diesel vehicle that can fuel in the truck lanes be sure to use the Open Roads Discount Fuel program for savings from $.30 to $1.30 per gallon. The card is free to sign up for and your fee is a percentage of your savings.  We have been a member for 3 years and saved thousands of dollars with this program. When you sign up please use referral code RVRS1124.
Camping World and RV Dealerships

You would think that large RV dealers and retailers would welcome and allow overnight RV parking.  Some do. 
Camping World used to be very open and easy for overnight parking but since they have expanded into RV sales their RV parking lots are now filled with For Sale units. 
It doesn't hurt to make a call to a Camping World that is on your route or any other large RV dealership.  The retailer we purchased from has several locations throughout the country and we have been able to stop in for a free stay as we passed by.
Publix, HEB, Whole Foods and Sprouts Grocery Stores
If you are in a pinch for overnight free parking consider calling one of the large grocery stores in your area and asking if you can park for the night.  Many of these stores have large lots that can be accommodating and safe places to park.
Other Places That May Allow

Free Overnight Parking

Maybe you are looking for some additional alternatives other than stores that allow free overnight parking.  Consider these places. 
Rest Areas
Many travelers consider rest areas on the side of the interstates or highways to be a great and safe place to sleep overnight and many times they are.  We have used them often.  Also, we have found in some states overnight parking is not permitted in rest areas.  So be sure and do your research. 
Please remember a rest area is just that, a place to stop temporarily to relax and take a break from the road.  They are not campgrounds, this is not the place to set up and roll out all the slides. 
Accidents sometimes happen.  Parking spaces are tight, and sometimes a weary traveler will fail to "make the swing".  Just a few inches can make all the difference. 
Some states are very friendly rest stops for RVers with dump stations and sites with hookups for a fee.  Most have picnic areas or walking paths as well as pet exercise areas.  Traveling through the West,  you will even find rest areas for traveling equestrians with corrals for the horses at night.
Sometimes safety is a concern in rest areas.  Please be aware at all times.  We have some dear friends who have been robbed during the day in rest areas.
Malls and Outlet Centers
Although they have huge parking lots, not all malls and outlet centers allow overnight parking.  Be sure to check with management or security.
Some do not even allow RVs to be in the general parking.  They will escort you to a designated area.  Ask us how we know.
Casinos
Casinos are one of our favorite places for overnight free parking.  Be sure to check in with security and ask exactly where they want you to park and you are good to go.
Large parking lots and open areas make for a pleasant stay.  Most also have roving security patrols.  Many casinos also have paid full hookup spots with very reasonable rates.
Casino parking is great for us because they are big rig friendly.  With a choice of onsite restaurants and bars, we can skip cooking for the night and who knows we may win a buck or two!
Fairgrounds
As we traveled with our business, we found many state and local fairgrounds have full hookup sites that are only used during the fair.  You can check and some will allow you to boondock in the parking lot for free or for a small fee you can reserve a full hookup site.
Some of the fairgrounds are in amazing areas and have spectacular views like the Verde Valley Fairgrounds in Cottonwood, Arizona.
City and County Parks
There are a lot of small parks throughout the country that allow overnight parking for free and sometimes camping for multiple days.  When you discover one of these hidden gems it surely makes you thankful.  Be sure to check out our resources below to help you find these great spots.
Beaches
Imagine that!  There are beaches that allow RV overnight parking and some are free.  Just so you know we aren't pulling your leg check out Magnolia Beach, Texas and this isn't the only one.
Churches
Some RVers exclusively use churches for their overnight parking.  We have been fortunate enough to leave our rig in a church parking lot for a couple days but we haven't overnighted yet.  It's on our list.  Be sure to let us know what churches you have used for overnight RV parking.
Street Parking
We have a big rig so this is not something we consider often.  However, we have seen a lot of rigs parked on the street in various areas for way more than an overnight stay.  
This is a judgment call you have to make and research to see whether the risk is worth it for you.
It has not been for us but depending on your rig size and level of comfortability it may work for free parking overnight or nights.
Stealth Parking
What is stealth parking?  You might consider this as being under the radar and parking overnight somewhere without express permission.
This could be in a store parking lot, an empty lot, a scenic overlook, or a sidestreet.  For vanlife and smaller inconspicuous rigs this can definitely be an option.
We aren't much for stealth camping as our rig is large and we never want to be involuntarily asked to leave.
BLM (Bureau of Land Management) and Public Lands
One of the most incredible parts of the United States is the opportunity to park overnight and many times multiple nights on our public lands.
Our country has some beautiful wide open spaces where you can feel free to spread out and enjoy yourself and the views.  You will find BLM more prevalent in the West.
Forest and Grasslands
National and state forest lands and grasslands have free overnight parking and camping which is also referred to as dispersed camping.
Why Stay Overnight in a Parking Lot?
Some people ask why would you stay overnight in a parking lot? 

The fact that it is free is one of the biggest reasons people look for stores that allow overnight parking. 
Ease and convenience is another major factor.  You pull off the road into the parking lot and it is time to relax. 
You don't have to make a reservation, you can be flexible with your timing and you don't have to stop and register and find your spot.  When it's time to leave you just go. 
A safe place to park overnight is important for road travelers. 
Parking lot security guards, working security cameras as well as other RV travelers provide a sense of security making for a peaceful sleep. 
On the other hand many feel unnerved at the prospect of staying in a random parking lot with people moving around at all times of the night.
Tips and Etiquette for Overnight Parking

Get Permission! 
Although this seems contrary to the popular belief of some long-time Rvers, overnight RV parking is a privilege and not a right. 
Due to abuse of the guidelines and etiquette we are seeing more government ordinances and corporate policies causing a drastic reduction in free overnight parking. 
Please make the call or walk in and talk to someone that has the authority to allow you to park overnight at their location. 
Bear in mind that it is not always the merchant or business that has this authority.  Government ordinances often prevent overnight parking even though it is private property. 
Sometimes a merchant who is leasing the property (no matter how big or well-known they are) also does not have control over the right to allow overnight parking in their lot.  This control remains with the property owner or developer. 
"It's better to ask forgiveness than permission" is another prevailing thought in the community.  Really?  This is the real world.  Please show some respect for the merchant.  Just because someone else is doing it or you got away with it one night doesn't make this a policy or the way to go. 
We were approached by a fellow RVer at a Walmart who was not going to "ask".  She offered all the reasons and excuses why she should be able to stay the rest of the night if questioned. 
Is that really what you want? The dreaded and scary "knock" on the door wakes you out of deep sleep in the middle of the night.  Now you have to start giving reasons and excuses. 
Not us, if we can't secure permission we don't stay. 
Another aspect of this is unhooking your rig.  If you are going to unhook and leave part of your rig in the lot please ask someone if that is okay so they know it isn't abandoned and needs to be towed.
Video: No Overnight Parking at Walmart!  Is this RV Myth true or false?
Pay Attention to Where and How You Park

 
When you are getting permission ask if there is a preferred location in the lot where you should park.  Most of the time it is away from the entrance. 

When you do park, think about yourself, people driving through the parking lot, and other overnight parkers that may be coming in after you.
Conserve your space.
Don't use more spots than you need and don't park on the center of the aisle taking up two sets of parking spaces.
Consider the way other rigs may need to park and be respectful of that. 
We encountered a truck camper who backed in a spot where he fit.  He probably thought that was respectful since he only took up one spot. 
However, the spot he took was in the middle of a row rather than staying to one side or the other.  This prevented anyone else with a larger rig from being able to park. 
Use your Slides with Respect
Popular opinion again says that you cannot deploy your slides in a parking lot.  We disagree with this.  If possible we will try to position the rig against or near a curb and just put out our curbside slides.

Other times if we are in the middle of the lot we will park parallel and offset to the side of the parking space and again just deploy one side of our slides.  No one else can use that space anyway.  If your slides make you wider than the space I can see that being an issue. 
Use care when dropping your jacks or levelers. 
Improper deployment can cause damage to the surface.  Make sure you have jack pads, snap pads or something to protect the surface you are leveling on.  It  may take a little more time but it is the right thing to do.
Don't Set Up Camp

This is not a campground or your home.  Keep chairs, grills, and awnings stowed.  This is not the place to repair your RV or do an oil change. 
Just stay the night or ask permission for an extra night. 
Keep in mind this is supposed to be overnight parking not multiple nights and moving in.  That is what campgrounds are for.  If you need multiple nights you may need to move locations. 
Be Respectful
Respect the rules of whoever it is that is allowing you to park or sleep overnight. 
If they have rules, comply.  If you can leave the place better than you found it please do, definitely do no harm.  Maybe pick up some trash around you, put your cart back, and maybe some else's. 
At the bare minimum pick up after yourself and dispose of all your trash in an acceptable manner.  This means not leaving it outside or stacking it by the trash can. 
Plan Your Entry and Exit
It may be helpful to look at google maps street or satellite view for an overview of whether or not a location will work for you and your rig. 
You should also read and pay attention to the reviews on the sites we recommend to see what other travelers thought of the spot. 
Some lots have low clearance to prevent big rigs at some entrances and some are hard to access, some may be too urban or in a not so good area. 
Sometimes you have to really read through the lines of a review and make a qualified decision, as most people will leave a negative review more often and let the positive review go. 
Another tip is to plan your exit when you enter.  There is nothing worse than being ready to go and being blocked in.
Spend a Buck!
Why is it that many feel entitled to be able to have a safe place to park overnight for free and they need to contribute nothing.  Let's face it most of the places we have mentioned that allow overnight parking are businesses. 
Last time I checked, businesses are in business to make money.  Please respect that and when you can use the merchant and make a purchase. 
Never Dump Your Tanks!
Ewww!  This is completely unacceptable and unsanitary.  There are places you can dump for free with a little research.  Most overnight parking does not have a sanitary dump.  If they do then by all means use it, if not, don't. 
How do you find Free Overnight Parking?
The short answer is research.  Where do you look and research?  Here are our go-to's?  First we will start with the free apps. 
RV Parky
This flexible app will show some recent and some not-so-recent reviews of places along your route that have free overnight parking.

Google Maps
We calculate how many hours or miles we want to drive and pinpoint the area.  Then if we are looking for what stores allow overnight parking we will input "Navigate to Walmart or Lowe's or the retailer name."  Once we narrow it down we call for permission.  Also, we use the satellite map type to take a closer look at the location and make sure it is suitable before we arrive. 
FreeRoam and IOverlander
These apps are both really good at finding overnight parking.  They will show both paid and free opportunities as well as a lot of other metrics if you use the filters.  They are also very good at identifying street and stealth parking. 

Paid and Membership Apps to Find Overnight Parking
This section is for the purists who would not agree that free overnight parking is really not free if you pay for an app or membership to find it.  So in true transparency, you are going to have to make an investment in these apps or memberships to find free overnight parking and camping.
RV Trip Wizard
Plan your route and set it up to designate Points of Interest along the way which can be places that allow overnight RV parking.  We use RV Trip Wizard to plan our trips and overnight stops in addition to several other features.  Be sure to check out RV Trip Wizard and the RV Life program.
 HipCamp
The Hipcamp program is a valuable resource to find places that allow free overnight parking and camping as well as paid spots.  Many times they are less expensive than campgrounds and offer some unique locations, experiences, and areas where you might not find a store that allows overnight parking.
Harvest Hosts

This is a great program if you want to stay in unique locations that could be a winery, restaurant, farm, museum, or golf course parking lot. 
Your unit must be self-contained, stays are normally limited to one night and it is suggested that you make a purchase with the host of at least $20. 
We have been Harvest Host members for several years and really enjoy the various venues that are offered throughout the country.
If you are interested in Harvest Hosts click below to save 15% on your membership.
Boondockers Welcome
Although a sister company to Harvest Hosts, a Boondockers Welcome membership allows you to find hosts that allow overnight parking on their property for a night or sometimes more for no charge.
Our stays with Boondockers  Welcome hosts have been very hospitable, accommodating, and free.
Conclusion: Stores That Allow Overnight Parking
Now that you know what stores allow overnight parking, you have a lot of choices.  With such a variety it should be easy to find free overnight parking that meets your needs and comfort level.  

Please be sure to respect the merchants and guidelines so we will continue to have safe places to park overnight while we are traveling.  Without this, we will continue to see availability dwindle and costs increase. 
Send us a message here and let us know your favorite place and what makes you feel comfortable when you are parking overnight.
Travel Safe and Adventure Often!